Nugget
Nugget was a three-year-old Golden Retriever who came in suffering from digestive issues for four days.
Diagnostic Test Results: Abdominal radiographs confirmed the presence of a bottle cap within the stomach.
Treatment: Using a videoendoscope our internal medicine specialist was able to visualize the bottle cap and a black garbage bag in Nugget's stomach. Both foreign objects were removed without surgery.
Outcome: Nugget made a successful recovery.
Miss Priss
Miss Priss, a 12-year-old short-haired cat, came in to check for a possible mass in her chest with breathing difficulty.
Diagnostic Test Results: Pre-operative radiographs revealed a mineral density mass associated with the number six rib on the left side of the chest. OVRA laboratory test results documented a mild anemia. Post-operative histopathology results confirmed an osteoscarcoma of the sixth rib, with no cancer cells present along the surgical margins.
Treatment: Thoracic surgery was performed to remove the mass, which included resection of the fifth, sixth and seventh rib on the affected side. The chest wall was reconstructed using a Prolene mesh implant. A chest tube was placed during surgery and she recovered in our ICU.
Outcome: Miss Priss made a successful recovery and continues to do well at home.
Kayla
Kayla, an 11-year-old Chow mix, came in for weight loss and a mass on her liver.
Diagnostic test results: An abdominal ultrasound revealed a large mass on the right side of the liver. OVRA laboratory test results documented elevated liver enzymes and anemia.
Treatment: Kayla received two units of packed red blood cells for the anemia. The blood donation was provided by Banner's Blood Bank, a non-profit local canine blood bank that is based out of OVRA. Surgery was performed to removed the liver mass. The large size of the liver mass had compromised the diaphragm and a chest tube was placed surgically to remove air that was accumulating in her chest. Kayla was hospitalized for a couple of days in our ICU and monitored closely during her recovery. Histopathology was submitted to Colorado State University and the mass was diagnosed as a hepatocellular carcinoma.
Outcome: Kayla responded well following surgery and returned home to her family.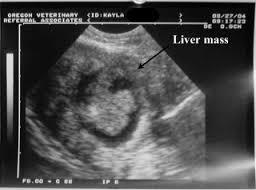 Scruffy
Scruffy was a 10-year-old terrier mix who was lethargic, anorexic and had enlarged lymph nodes.
Diagnostic Test Results: An abdominal ultrasound revealed a cyst in the liver and enlarged abdominal lymph nodes. Fine needle aspirates of the peripheral lymph nodes were consistent with intermediate grade lymphoma. Chest radiographs were normal.
Treatment: Alternating weeks of chemotherapy including vincristine, doxorubicin and cyclophosphamide.
Outcome: Scruffy did very well during her chemotherapy treatments. Unfortunately she later succumbed to her disease and passed away.
Riley
Riley was an eight-month-old mixed breed dog who suffered a broken leg.
Diagnostic Test Results: Referral radiographs documented a distal 1/3 spiral-oblique fracture of the left tibia. Post operative radiographs documented the fracture had been successfully reduced into normal position and stabilized.
Treatment: The surgery performed was an open reduction and internal fixation of the fracture using a 2.7 mm lag screw and a 3.5 DC plate with nine cortical screws.
Outcome: Riley had a successful recovery and was able to walk on the injured leg the day following surgery. He returned home for eight weeks of restricted activity while the bone heals.