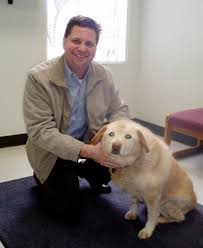 Kayla, an 11-year-old Chow mix, came in for weight loss and a mass on her liver.
Diagnostic test results: An abdominal ultrasound revealed a large mass on the right side of the liver. OVRA laboratory test results documented elevated liver enzymes and anemia.
Treatment: Kayla received two units of packed red blood cells for the anemia. The blood donation was provided by Banner's Blood Bank, a non-profit local canine blood bank that is based out of OVRA. Surgery was performed to removed the liver mass. The large size of the liver mass had compromised the diaphragm and a chest tube was placed surgically to remove air that was accumulating in her chest. Kayla was hospitalized for a couple of days in our ICU and monitored closely during her recovery. Histopathology was submitted to Colorado State University and the mass was diagnosed as a hepatocellular carcinoma.
Outcome: Kayla responded well following surgery and returned home to her family.