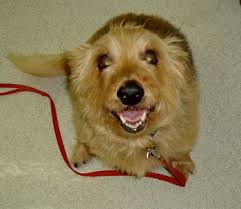 Scruffy was a 10-year-old terrier mix who was lethargic, anorexic and had enlarged lymph nodes.
Diagnostic Test Results: An abdominal ultrasound revealed a cyst in the liver and enlarged abdominal lymph nodes. Fine needle aspirates of the peripheral lymph nodes were consistent with intermediate grade lymphoma. Chest radiographs were normal.
Treatment: Alternating weeks of chemotherapy including vincristine, doxorubicin and cyclophosphamide.
Outcome: Scruffy did very well during her chemotherapy treatments. Unfortunately she later succumbed to her disease and passed away.