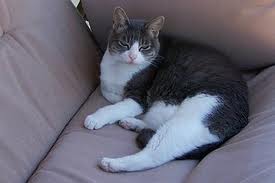 Miss Priss, a 12-year-old short-haired cat, came in to check for a possible mass in her chest with breathing difficulty.
Diagnostic Test Results: Pre-operative radiographs revealed a mineral density mass associated with the number six rib on the left side of the chest. OVRA laboratory test results documented a mild anemia. Post-operative histopathology results confirmed an osteoscarcoma of the sixth rib, with no cancer cells present along the surgical margins.
Treatment: Thoracic surgery was performed to remove the mass, which included resection of the fifth, sixth and seventh rib on the affected side. The chest wall was reconstructed using a Prolene mesh implant. A chest tube was placed during surgery and she recovered in our ICU.
Outcome: Miss Priss made a successful recovery and continues to do well at home.